CAP'INSA
Objectives
Promoting diversity within INSA is part of the philosophy behind its creation. As Rector Capelle puts it, it is about 'providing opportunities to families from previously under-represented social groups that could not access any of the traditional routes to higher education, whether the open enrolment of baccalaureate holders to the university, because of many failures along the way, the quid pro quo for ease of entry, or the competitive entrance examination for the grandes écoles with its uncertainties after two or three years of intensive preparation'. This desire to give as many students as possible access to quality higher education, regardless of their background, aims to combat self-censorship and improve motivation. There is no question of positive discrimination. INSA is renowned for its level of scientific excellence, which requires selecting high-achieving students to guarantee quality education.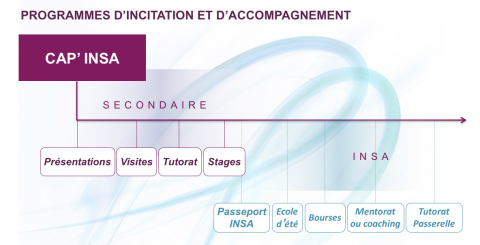 Activities
It is a partnership between INSA and 13 secondary schools in the local education authority of Lyon as well as those of Guadeloupe, Guyana, Martinique, Mayotte and Reunion Island.
INSA Lyon thus carries out various activities for students in the science (general bac S) and technology (STI2D) streams in secondary schools and areas through:
a presentation of the engineering courses offered within the institution
a visit to INSA Lyon
weekly tutoring provided by engineering students directly in partner secondary schools in the local education authority of Lyon
distance tutoring sessions for secondary school students from overseas departments
two- to three-day internships during school holidays on the INSA campus
Interested secondary school students apply to INSA like all other candidates. After confirmation of their admission to INSA Lyon, these students benefit from support throughout their first year:
mentoring by engineers
tutoring involving lecturers
school tutoring by engineering students
financial assistance
one-to-one psychological support

 
At the start of the 2019 academic year, INSA Lyon welcomed 25 students from secondary schools under the Diversity Convention of the local education authority of Lyon, 12 students from Reunion Island, 4 from Martinique, 1 from Guadeloupe, 4 from French Guiana and 1 from Mayotte.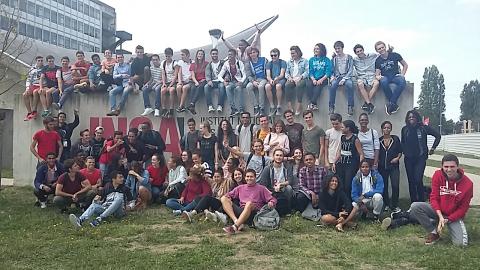 Webinaire sur la procédure d'admission en 1re année et sur le dispositif INS'Avenir - 26/01/2023